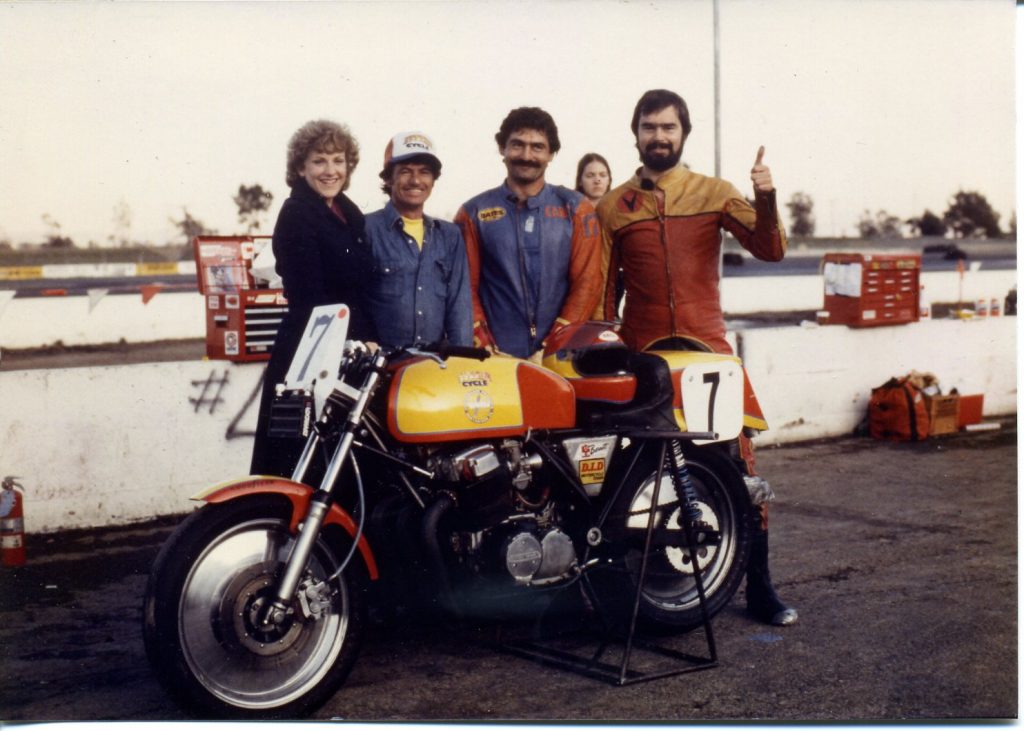 HyperCycle was born in the gritty street and drag racing scene of '70s-era Van Nuys, California. An intelligent, energetic and rebellious youth by the name of Carry Andrew found himself in the center of that critical mass of hot rodders and horsepower in Southern California's San Fernando Valley, and soaked up every bit of knowledge that he could. Working at various shops, Andrew tuned alongside some of the best in in the business, including a particularly influential Japanese technician with an extensive background at Honda's elite Racing Service Center (RSC which pre-dates HRC) in the early 1970s through 1982, when it was renamed the now familiar HRC (Honda Racing Corporation). From his work bench, an intellectually curious Andrew watched and learned.  Another strong influence was Luther Iskenderian of the famous Isky Racing Cams hot rod parts family. Luther taught Andrew the intricacies of camshaft profiles, cam timing, and the complexities of how to optimize an engine's ability to breathe fuel and air efficiently and turn that mixture into horsepower.
Andrew's fierce competitive spirit focused him on studying the art and science of speed. The natural outcome of that was the desire to test his skill and knowledge in competition which could be found as close as a thriving street racing scene; with Van Nuys as the epicenter. As his need for higher levels of competition grew, Andrew took his self-built Honda SOHC CB750s to the drag strips and the road racing courses in SoCal, earning an impressive number of wins. That success only inspired Andrew to set his sights higher and saw him traveling around the country competing against the nation's best in AMA Pro Roadracing Superbike competition.
HyperCycle's distinctive yellow and orange livery, Andrew's first Honda Superbike named Bertha, and later his Kawasaki KZ1000 Superbike, Yancy, the racer from Van Nuys earned a reputation as a fast and fierce competitor, and a regular front-running privateer racer. In a field stacked with 10 or more factory Superbikes, Andrew scored as high as 5th place at Laguna Seca in '80 and sixth place at Talladega Speedway road course in '81. In addition to the Superbike sprint races, HyperCycle ran a highly successful endurance racing team in the '70s, '80s and '90s. HyperCycle's first AMA National Championship was the '88 AMA GTO Endurance Series. Andrew was the key pilot in the two-rider events, along with alternating teammates Jeff Herzog, James Domay and Kenny Kopecky, as their schedules allowed. The constant was a wicked fast and flashy Suzuki GSX-R1100 splashed with HyperCycle's signature DayGlo orange paint scheme. Andrew retired from professional racing after the '89 season and focused on building race bikes, which soon led to a long-term association with one of his key sponsors, Yoshimura R&D.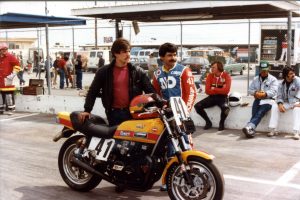 Andrew began this relationship by building the famous "Big Papa" Yoshimura Suzuki GSX-R1100 that California racer Scott Gray rode to dominate the unlimited-modification, anything goes Formula USA series. That championship led to five years as a Yoshimura crewman, engine and bike builder for Yoshimura factory Suzuki racers Miguel DuHamel (750 Supersport) and the AMA 750 Supersport Championship-winning GSX-Rs of Britt Turkington and Tom Kipp. While he was working with Yoshimura, Andrew also began a long-term relationship with Motorcyclist and Sport Rider magazines as a technical expert, contributing editor, project race bike builder, and creator of some of the wildest unlimited-modification street bikes in Sport Rider's annual Unlimited Flying Objects competitions. HyperCycle's distinctive bright and brilliant blue, white and orange GSX-Rs were featured on many covers of Sport Rider and Cycle World magazines, enhancing Andrew's world-wide reputation as one of the premier high-performance bike builders.
After his five-year stint building championship-winning race bikes for Yoshimura, Andrew went on to earn AMA Pro Roadracing Championships in AMA SuperTeams with the EBSCO Suzuki team in '95, AMA 750 Supersport in '97 when he formed HyperCycle Suzuki, and again in '01 and '02 under the Corona Suzuki banner. Additionally, Andrew was awarded AMA Pro Tuner of the Year awards in '95, '97 and '01, in conjunction with those three AMA Pro Championships.
After his decades on the professional racing circuit, Andrew refocused on building special project bikes from professional racers, serious enthusiasts across the United States in addition to International clientele. HyperCycle's shop is also filled with historically significant race bikes from the '70s era into the 2000s. "Yancy," Andrew's much-loved Kawasaki KZ1000 Superbike that he campaigned successfully in the '70s and early '80s, seduced Carry to go back to his roots and compete in the American Historic Motorcycle Racing Association. Of course, that taste of competition led to more mechanical upgrades for Yancy. And something else happened, too. Through the growing group of vintage racing enthusiasts and friends old and new, Andrew caught word of an entirely different level of world-class Classic racing that happened halfway around the world.
The 2016 Australian Motor Cycle News International Island Classic at Phillip Island soon became a top-of-the-bucket list event for Andrew as he approached retirement age. Little did he know that the taste of International Classic racing competition would relight the flame of this racer, tuner and bike builder and, in Andrew's words, "woke up my primal need for speed." That first taste grew into a powerful hunger. As a result, Andrew launched HyperCycle Classic Superbike Team USA and signed two-time world champion Colin Edwards, the Texas Tornado, to ride a HyperCycle-built Yamaha FJ-powered, XR69-replica in the 2018 AMCN International Island Classic.
Who knows where the story will go from here?